Nathan Söderblom - sculpture
Address: Rådhusparken Söderhamn
Date: Tuesday 13 nov 2018 - Monday 13 Nov 2023
Show map
Address: Rådhusparken Söderhamn

Archbishop who won the Nobel Peace Prize in 1930.
Nathan Söderhblom (1866-1931) was born in Trönö and is known as a leading theologist and man of the church in both Sweden and abroad. He was named archbishop in 1914, and received the Nobel Peace Prize in 1930.

The sculpture is welded from 10 mm corté steel. The figure is in actual size, about 175 cm high. The gate is about 3 meters high. On the gate is inscribed the word "Peace" in different language. The sculpture was erected in 2001.

Artist: Thomas Qvarsebo
Welding: Tomas Hydling
Show more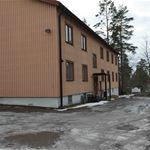 Hostel
Distance: 3.9 km
Welcome to Söderhamn and Funemässen. Funemässen is located at Flygstaden, a former Air force base called F15. In our relaxed atmosphere your stay will be nice and comfortable. Our lunch restaurant, a favorite to many locals, is open every day.
Hotel
Distance: 935 meters
A small, privately owned coastal hotel with a family feeling. There is a genuine and harmonious hotel ambience, and free, supervised parking right outside the hotel. Located adjacent to the E4 motorway, within walking distance of Söderhamn's downtown and the Travel Centre with bus and train station.
Hotel
Distance: 60 meters
First Hotel Statt is located in central Söderhamn, and dates from 1880. Some of the rooms have of view of the square outside City Hall. Our conference centre can accommodate 400 people, with air conditioning and the availability of arranged activities for conference participants.