Salmon fishing in the river Ljusnan
Address: 82020 Ljusne
Date: Thursday 15 nov 2018 - Wednesday 15 Nov 2023
Show map
Address: 82020 Ljusne

One of the best locations in Sweden for catching salmon
The fishing area in Ljusne extents about eight kilometers, from the Höljebo hydro power plant to the sea. People have been known to have caught fishes of up to 20 kilos here. New fish is continuously released into the water.ö

Telephone: +46(0)270-681 27
Cell: +46(0)70-221 17 90
Show more
Camping
Distance: 6 km
The Söderhamn Riviera! Stenö Havsbad & Camping is a peninsula with beaches on both sides. You also have over 100 camping pitches and lots of land for free camping.
Hostel
Distance: 8.2 km
Enskär is a pearl in the central part of the archipelago with sandy beaches ideal for families. The island attracts not only day-trippers interested in swimming but also folk who stay for a holiday, enjoying archipelago life from a rented cabin.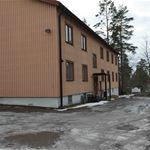 Hostel
Distance: 7.5 km
Welcome to Söderhamn and Funemässen. Funemässen is located at Flygstaden, a former Air force base called F15. In our relaxed atmosphere your stay will be nice and comfortable. Our lunch restaurant, a favorite to many locals, is open every day.