Fejan Memorial
Address: Villavägen, 82020 Ljusne
Date: Tuesday 13 nov 2018 - Monday 13 Nov 2023
Show map
Address: Villavägen, 82020 Ljusne

Memorial monument from the turn of the century
Ljusne is famous for its strong workers' culture, with roots at the turn of the century when industrialism was blooming. On the 18th of July the worker's movement youth club were planning to inaugurate their new flag, but were stopped by Count Walter von Hallwyl, the owner of Ljusne-Woxna inc., who forbade them from holding activities in land owned by the company. This caused a protest meeting of 1500 workers to be held in the patch of common land called "Fejan", where together they wrote a telegram to the king. Count von Hallwyl was summoned to the court, where he was reprimanded by the king for his rude behavior towards his employees.

This stone, on which the whole telegram is recorded, was erected in memory of the workers' victory over the count.
Show more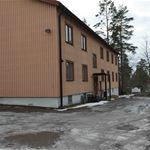 Hostel
Distance: 7.3 km
Welcome to Söderhamn and Funemässen. Funemässen is located at Flygstaden, a former Air force base called F15. In our relaxed atmosphere your stay will be nice and comfortable. Our lunch restaurant, a favorite to many locals, is open every day.
Camping
Distance: 6.8 km
The Söderhamn Riviera! Stenö Havsbad & Camping is a peninsula with beaches on both sides. You also have over 100 camping pitches and lots of land for free camping.
Hostel
Distance: 9.3 km
Enskär is a pearl in the central part of the archipelago with sandy beaches ideal for families. The island attracts not only day-trippers interested in swimming but also folk who stay for a holiday, enjoying archipelago life from a rented cabin.