Heritage architecture of Söderhamn
Address: Oxtorgsgatan, 82632 Söderhamn
Date: Tuesday 13 nov 2018 - Monday 13 Nov 2023
Show map
Address: Oxtorgsgatan, 82632 Söderhamn

City hall was made a listed heritage building in 2000
The area around City Hall Square is one of Sweden's largest archetectual heritage areas and the jewel of Söderhamn.

City hall and the other buildings surrounding the square were all erected after the great fire of 1860, which devastated all of central Söderhamn. This means all the buildings are in stylistic harmony, making the enviromnent unique and worthy of preservation.

In the middle of City Hall Square, which ever since the Foundation of the city in 1620 has been the foremost square of the city, is a monument to the city founder King Gustav II Adolf (Gustavus Adolphus). The nearby park connects City Hall with the Queen Ulrika Eleonora Church. Together they form the dream of any photographer. In the middle of the park is a fountain. An area of about 100 square meters is covered by 5000 summer flowers, and the park is guarded by a line of centennial trees.
Show more
Hotel
Distance: 74 meters
First Hotel Statt is located in central Söderhamn, and dates from 1880. Some of the rooms have of view of the square outside City Hall. Our conference centre can accommodate 400 people, with air conditioning and the availability of arranged activities for conference participants.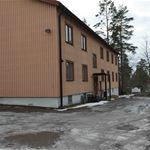 Hostel
Distance: 4 km
Welcome to Söderhamn and Funemässen. Funemässen is located at Flygstaden, a former Air force base called F15. In our relaxed atmosphere your stay will be nice and comfortable. Our lunch restaurant, a favorite to many locals, is open every day.
Hotel
Distance: 930 meters
A small, privately owned coastal hotel with a family feeling. There is a genuine and harmonious hotel ambience, and free, supervised parking right outside the hotel. Located adjacent to the E4 motorway, within walking distance of Söderhamn's downtown and the Travel Centre with bus and train station.