Tönnfors fish pond
Address: Västby 839, 82392 Holmsveden
Date: Tuesday 13 nov 2018 - Tuesday 31 Dec 2019
Show map
Address: Västby 839, 82392 Holmsveden

Aside from the above fishing options, there are also privately owned fish ponds, one of which is located in the southwestern corner of the Söderhamn council area, between Holmsveden and Stråtjära. This fish pond is part of an aquaculture system of ponds which has its source from Tönsen, where the water flows through Draggan before entering the aquaculture farm. Water continues from the farm out to Näsfjärden on its way to the sea.

The fish pond can be found on Tönnfors fish farm where rainbow trout is grown and planted out in the fish pond for visitors to fish up.

Tönnfors fish farm lies out in the forest roughly between Holmsveden and Stråtjära and is signposted from both route 83 and the Holmsveden-Bergvik road.


The fish pond is easily accessible and a picnic spot with a BBQ grill, small smoke shed and WC are available for visitors' use. The fish pond is open year round and ice fishing is possible during the winter. Besides rainbow trout, the fish pond contains common roach (rutiles rutiles) and bream, pike and perch. The area is even known for having been home to the largest eel fished in Sweden in 1982.

The farm also has a guest house where guests who want to use the farm as their holiday base can stay year round. The guest house has a lovely view over the fish pond and lake (Näsfjärden). There are bicycles and a boat available for hire for guests. The farm is only 4 km away from the start of the Sagberg hiking trail. There is also an old canoe trail from Näsfjärden lake.

Visitors should contact the farm before coming to make sure we are home.
Show more
About this activity
Phone number (booking)

Phone number

Mobile phone

E-mail (Organizer)

Contact person email

Website

Opening hours

Open year round. Visitors should ring before dropping by.

Facilities

Pets allowed

WC

Child friendly

Price information

Visitors who want to fish just pay 69 kr/kg for rainbow trout which they take up.

Links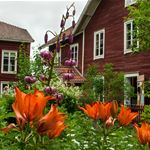 Bed & Breakfast
Distance: 23.1 km
Welcome to unique accommodation on a Unesco world heritage site! With considerable respect and passion for the farmhouse and the site´s cultural history, five rooms have been renovated, each with its own character and charm and has its own shower and toilet.
Bed & Breakfast
Distance: 9.3 km
Stall Stråtjära is an active small farm house that offers B&B accommodation in a cozy Swedish atmosphere. The wake-up call in the morning is from the sound of many of the farm's animals, and when you open the curtains; your eyes will look at the horses grazing in pastures. It can't get any more peaceful than this