Stall Stråtjära
Address

: G:a Gävlevägen 15, 820 29 Stråtjära
show map
Location
: Söderhamn
(Forest area)
Bed & Breakfast | Stall Stråtjära is an active small farm house that offers B&B accommodation in a cozy Swedish atmosphere. The wake-up call in the morning is from the sound of many of the farm's animals, and when you open the curtains; your eyes will look at the horses grazing in pastures. It can't get any more peaceful than this
We offer four rooms that are located on the second floor above the stables. Breakfast, bedlinen & towels and check-out cleaning are included in the price. There are two shared bathrooms with shower and toilet. Adjoining the rooms there is also a common area living room for all the guests including a kitchenette with running water, fridge, microwave as well as water boiler.

Close to the farm house there are popular fishing waters and lakes to go for a swim in. If you are interested in a game of golf, you only have 15 km to Bollnäs Golf Club and 20 km to Söderhamns Golf Club.

Welcome to Stall Stråtjära!
Facilities and services
General facilities

Number of floors: 2

4 room(s)

Special requirements

Child friendly

Pets allowed

Website
Policies
Pets

Check in (earliest)

Check out (latest)
Contact information
Phone number (booking)

Phone number (reception)

Street address 1

City (address)

E-mail (Organizer)
Compare "Stall Stråtjära" with similar alternatives
MUSES bed & breakfast is a wooden traditional Swedish house in the countryside in Bergvik (Sunnanå) just outside the town of Söderhamn. It is surrounded by trees and still only minutes from Marmen, the popular fishing waters in the area.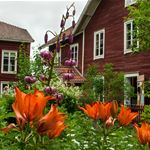 Welcome to unique accommodation on a Unesco world heritage site! With considerable respect and passion for the farmhouse and the site´s cultural history, five rooms have been renovated, each with its own character and charm and has its own shower and toilet.
Moheds Camping is located about 10 km west of Söderhamn. We´located in very beautiful natural surroundings, we will do our best to make sure that you enjoy your stay with us.